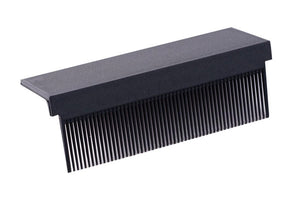 SilkPress Helper Comb Attachment
Sale price Price $29.00 Regular price Unit price / per
Welcome to the world of SilkPress, where sophistication and convenience harmoniously intertwine to redefine your hairstyling experience. Introducing our luxurious SilkPress Helper Comb Attachment – your key to achieving flawlessly pressed hair in just one pass. Prepare to indulge in the epitome of hair care innovation, thoughtfully crafted to elevate your daily hair routine to new heights.
Efficiency Perfected: The SilkPress Helper Comb Attachment boasts cutting-edge OnePass Technology, a stroke of genius that revolutionizes traditional hair pressing. With its smooth and gentle glide, this attachment allows you to achieve salon-quality results in a fraction of the time, saving you precious moments without compromising on style. Say farewell to the repetitive strokes and welcome effortless efficiency with every press.
Versatile Luxury for All Hair Types: As diverse as the modern woman's beauty, the SilkPress Helper Comb Attachment caters to all hair types and textures. From straight to curly, wavy to coily, this attachment adapts effortlessly, providing consistent and luxurious results for everyone. Embrace versatility with a touch of elegance, making every hairstyling session a delightful experience.
Sophisticated Heat Distribution: We understand that hair health is of paramount importance. Our comb attachment incorporates advanced heat distribution technology, ensuring even heat coverage along the comb teeth. Revel in the luxury of knowing that your hair is protected from hot spots, as you bask in the silky goodness of beautifully pressed locks.
Seamless Integration, Effortless Style: Embrace the seamless compatibility of the SilkPress Helper Comb Attachment with most popular hair straighteners. Designed for ease and simplicity, attaching the comb is effortless, allowing you to effortlessly infuse your daily styling routine with a touch of sophistication. Revel in the convenience of salon-quality results from the comfort of your home.
Indulge in SilkPress Elegance: Our comb attachment is more than just a hair styling tool; it's a journey into indulgence. Experience the luxurious feel of the comb gliding smoothly through your hair, as you savor the delightful results of a single pass. Allow yourself to be captivated by the enchanting allure of silk-like tresses, adding a touch of elegance to every look you create.
Your Crowning Jewel Awaits: Discover the SilkPress Helper Comb Attachment, a crowning jewel in your hair care collection. Experience the sheer beauty of effortlessly polished locks that exude elegance and charm. Prepare to delight in the compliments and admirations that come your way as you embrace the allure of luxurious hair care.
At Wyatt Hair Collection, we are committed to transforming your hairstyling routine into a luxurious and enjoyable experience. Embrace the beauty of efficiency and elegance with our SilkPress Helper Comb Attachment. Unlock the secrets to effortlessly pressed hair, and seize the opportunity to pamper yourself with every styling session.
Transform your haircare routine with the SilkPress Helper Comb Attachment and embrace a life of effortless elegance. Your journey to flawless tresses begins here - welcome to the world of luxurious simplicity.