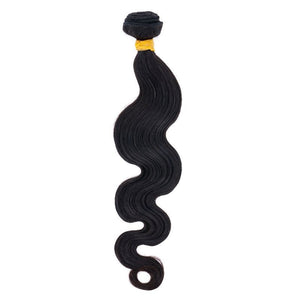 Raw Body Wave Hair Extensions
Sale price Price $77.99 Regular price Unit price / per
Our Luxury Raw Body Wave hair has been made with the best one donor RAW HAIR on the market! This texture has a consistent "S" pattern and also gives off a natural wave curl pattern. The hair gives a natural shiny appearance with a silky, smooth touch.
The market's most sought-after hair pattern, elevated to new heights.
Our Raw Body Wave Bundles are crafted from 100% pure, raw hair sourced from the mountainous regions of China and steam-curled for a perfectly defined s-pattern. Unaltered and unprocessed, these bundles are free from dyes and fillers, ensuring a natural and pure look. The cuticles are in their natural Remy state and professionally color to a stunning blonde #613. Experience the difference that pure, natural hair can make with our Raw Body Wave Bundles.
To achieve a full and voluminous look, it is recommended to use at least 3 bundles for a complete installation.  Upgrade your hairstyle with our premium collection of Raw Body Wave hair extensions, and achieve a full, voluminous look with the finest quality of single donor hair.