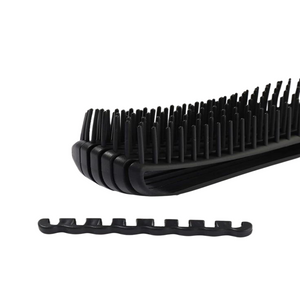 Flex Detangling Brush
Sale price Price $12.00 Regular price $17.99 Unit price / per
Painlessly detangle and separate your natural locs or extensions in half the time. From 3a to 4c hair, save the arm work of fighting with tangles, knots, and snags with our No Knots Detangler Brush!
The unique design features flexible rows that separate for gentle detangling and smoothing with ease. No hair snagging or hair pulling.
 Designed to be used on wet or dry hair of all types (thick, thin, natural, extensions, and wigs). Promotes healthy hair retention when used nightly before using your bonnet.
Our Flex Detangling Brush is for detangling thick, curly or textured hair without damage.  It is optimal for using in the shower to detangle with deep conditioner in your hair.
Benefits
Finger-like bristles flex as you brush to avoid breakage and damage to hair
Detangles wet or dry hair
Separates and defines wet curls
Perfect for evenly distributing conditioners or treatments to wet hair
Curved comb shape for comfortable use on your scalp
Features
Flexible finger-like bristles
Comes with Control Bar that can be used optional to lock comb teeth in place
ustomize the bristle width to your hair type and curl pattern
Designed for thick, curly and textured hair types
Lightweight