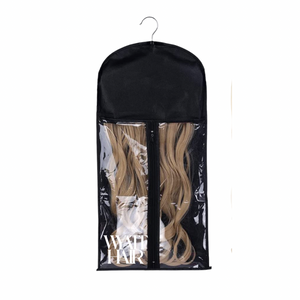 Hair Extension and Wig Storage Carrier
Sale price Price $30.00 Regular price $49.99 Unit price / per
Perfect solution to storing and caring for your hair extensions when not in use! Keeps your hair extensions in perfect condition, preventing any unnecessary matting, protecting it from dust, water and dirt.
The hanger is also a great option for styling your hair extensions, simply hang the hair up on the hanger to free both of your hands making styling and drying your hair extensions a lot simpler and less time consuming. when washing and cleaning your Hair Extensions. It allows you to quickly air dry or blow dry your extensions.
—-
Protect your investment from dust, dirt, and tangling, while helping maintain its luster by storing your hair in our Satin Hair Extension & Wig Storage Carrier. Raw hair can last up to 5 years with proper maintenance and our storage bag offers the necessary assistance. Also, great for traveling.
Protect your investment by storing your hair! Our hair extensions storage carrier makes it easy for your extensions to last! 
This bag is made of high-quality, satin fabric and comes with a transparent front cover with a zipper-seal for easy viewing and access.
For hair purchased to be used at a later date, to store hair between installations, or for those quick-wigs you just love to alternate between, our Satin Hair Extension & Wig Storage Carrier  is the perfect place to keep them all. Buy a carrier for each or let your extensions and wigs share. 


Product Features:
1.These silky satin storage bags are designed with front transparency and a zipper for secure keeping, making the bags open or close conveniently.

2.Convenient and suitable to store all types of hair long hair/short hair/ curly hair /wave hair/straight hair perfect for WHC Raw Hair Extensions.
How to use
1.Pull down hook to unlock and release hanger
2.Clip your hair extensions/wig in the hanger and pull back the lock
3.Comb your hair/wig well
4.Put the hanger and hair together in the storage bag
5..Pull up the zipper, taking care not to get your hair caught in the zipper
It can hold extensions up to 24 inches curly/wavy, 22" straight 
Size: Approx. 60 x 29cm/ 23.6 x 11.4 inches


Wooden Hanger Specification:

Size: Approx. 23 x 17cm/ 9 x 6.7 inches


Color: Black and clear
*Find maintenance and product recommendations for this item