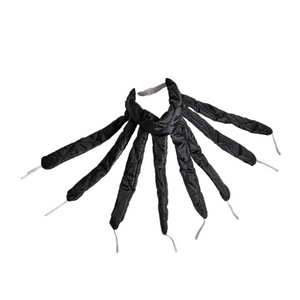 Heatless Octocurler
Sale price Price $39.99 Regular price Unit price / per
Introducing the Ultimate Travel Companion: Wyatt Hair Collection's Heatless OCTOcurler!
Are you tired of sacrificing your hair's health while on the go? Say hello to fabulous, damage-free curls with our revolutionary OCTOcurler, designed with travel in mind.
🌍 Perfect for Jet-Setters: Whether you're exploring exotic destinations or on a business trip, the OCTOcurler is your go-to styling solution. Say goodbye to bulky styling tools and hello to compact convenience.
🧳 Portable and Lightweight: Weighing almost nothing and taking up minimal space in your luggage, the OCTOcurler is the ultimate travel-friendly curling tool. Slide it into your bag, and you're ready to jet off.
✈️ No Need for Outlets: Traveling means adapting to different electrical systems, but with the OCTOcurl, you're free from the need for outlets. No electricity or heat required – just pack it and curl on the fly.
🌟 Effortless Beauty Worldwide: Wherever your travels take you, the OCTOcurler ensures you can maintain your fabulous curls and waves effortlessly. It's the secret weapon for hair perfection while on the road.
Experience the luxury of beautiful, heatless curls and the freedom to style your hair anywhere, anytime. Wyatt Hair Collection's Heatless OCTOcurler is your essential travel companion for hair that's always ready for its close-up!