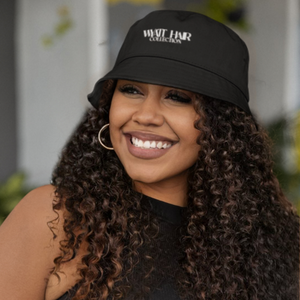 Luxe Cover Bucket Hat
Sale price Price $20.00 Regular price $39.99 Unit price / per
The Luxe Cover Bucket Hat by Wyatt Hair Collection, the ultimate accessory for the modern woman on the go. This premium black bucket hat is more than just a stylish addition to your wardrobe; it's a symbol of luxury and protection for your hair.
Crafted with the finest materials, The Luxe Coveer Bucket Hat is designed to shield your hair from the sun and wind, while keeping you looking chic and sophisticated. The sleek black design is elevated by the Wyatt Hair Collection logo on the front, ensuring that you'll stand out from the crowd in style.
The Luxe Cover Bucket Hat is perfect for women who wear hair extensions or simply want to protect their hair from the elements while on the go. Whether you're running errands, lounging by the pool, or exploring a new city, this bucket hat is the ultimate travel companion.
And the best part? You can now enjoy the convenience of a pickup option at checkout. Simply select "Pickup" at checkout and your Luxe Shade Bucket Hat will be waiting for you at our store location.
So why settle for an ordinary hat when you can have The Luxe Cover Bucket Hat by Wyatt Hair Collection? Elevate your style and protect your hair with the ultimate in luxury and sophistication.