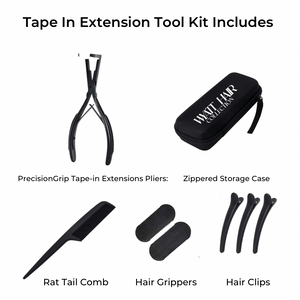 Tape-in Hair Extensions Pliers Kit
Sale price Price $49.99 Regular price $69.99 Unit price / per
Unlock the secret to seamless tape-in extensions application with the PrecisionGrip Pliers from Wyatt Hair Collection. Designed with precision and convenience in mind, these innovative pliers are the ultimate tool for hairstylists and enthusiasts looking to achieve flawless results with ease.
Features of the PrecisionGrip Tape-in Extensions Pliers:
Superior Control and Grip: The unique design of the PrecisionGrip Pliers ensures maximum control and stability during the application process. The ergonomic handles provide a comfortable grip, allowing for precise placement of tape-in extensions without any slips or unevenness.

Durable and Reliable: Crafted from high-quality materials, the PrecisionGrip Pliers are built to withstand frequent use and provide long-lasting performance. Rest assured that these pliers will be a dependable tool in your hairstyling arsenal.

User-Friendly Design: Whether you're a seasoned professional or a DIY enthusiast, the PrecisionGrip Pliers are designed for easy use. The intuitive design and functionality ensure a seamless experience, allowing you to achieve salon-quality results from the comfort of your own space.
Elevate your tape-in extensions game with the PrecisionGrip Pliers from Wyatt Hair Collection. Experience the convenience, precision, and reliability that these pliers offer, and take your hairstyling skills to new heights.
Invest in the right tools for flawless tape-in extensions application. Trust the PrecisionGrip Pliers by Wyatt Hair Collection to deliver exceptional results, every time.
 The kit also comes with:
Reliable Hair Grippers: Soft yet provide secured and controlled grip of hair and minimize hair slipping & uneven placement.

Handy Hair Clips: Premium clips that ensure comfortable hold of the hair that is perfect for precise sectioning and easy hair extension installation.

Rat Tail Comb: The long narrow tail allows professional hairstylist to section hair with accuracy and effortless parting of hair strands.

Zippered storage case: Sturdy and durable case for easy storage and ensures that your high quality tools are secured and ready for travel. With custom compartments and sleek design, keeping everything in its place.

 
**Please note this product is not available for same day pickup. Please allow 2-3 days for shipping.