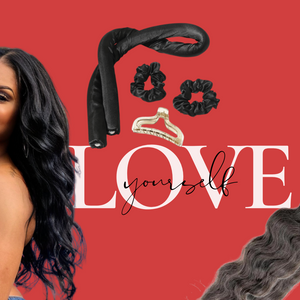 The Perfect Pair (wefted)
Sale price Price $250.00 Regular price Unit price / per
The Perfect Pair for Valentine's Day: Raw Hair Extensions & Satin Heatless Curler Set

Looking for the ultimate Valentine's Day gift for yourself or a loved one? Look no further!
Our Raw Hair Extensions & Satin Heatless Curler Set is the perfect combination for achieving luxurious, silky, and voluminous hair.
The Raw Hair Extensions are made from 100% unprocessed raw hair and offer the perfect length and volume boost to any hair style. And, our Satin Heatless Curler Set allows you to create beautiful curls and waves with ease, without damaging your hair with heat.
This kit includes everything you need to elevate your hair game, including our Raw Hair Extensions, Satin Heatless Curler Set, Open Shape Claw Clip, and 2 scrunchies. Get ready to fall in love with your hair this Valentine's Day!
The set includes :

1- 12" Raw Wavy Bundle (wefted)
1- 14" Raw Wavy Bundle (wefted)
1 Satin Heatless Curling Rod
a reusable travel storage bag,
2 scrunchies to secure your strands,
and a scalp massager to promote healthy hair growth.
Whether you're at home or on the go, the Satin Heatless Curling Rod set has everything you need to achieve stunning curls in just 5 minutes. Upgrade your hair care routine and indulge in the ultimate luxury with Wyatt Hair Collection's Perfect Pair.